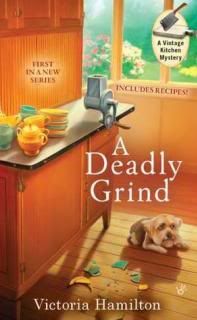 Synopsis:
When vintage cookware and cookbook collector Jaymie Leighton spies an original 1920s Hoosier brand kitchen cabinet at an estate auction, it's love at first sight. Despite the protests of her sister that the 19th-century yellow-brick house they share in Michigan is already too cluttered with Jaymie's "junk," she successfully outbids the other buyers and triumphantly takes home
her
Hoosier.
But that night on the summer porch where they've left the Hoosier to be cleaned up, a man is murdered, struck on the head with the steel meat grinder that is part of the cabinet. Who is this stranger—and what was he doing on their porch? Does his death have anything to do with the Hoosier?
As the police struggle to determine the man's identity, Jaymie can't help doing a little digging on her own, accompanied by her three-legged Yorkie Poo, Hopalong. But in her bid to uncover the truth about the hidden secrets of the Hoosier, Jaymie may be the one who ends up going, going…gone.

Thoughts: Thanks to a Facebook page, I'm discovering many new writers of what are known as "cozy mysteries." I've read several series of them in the past, but never knew they had a name/genre all their own. This is a good story, and it kept me guessing as to the murderer for most of the story. The interaction between the characters is very believable,and the characters are easy to care about. Looking forward to reading more by this author in the future.