Contemporary Women's Fiction
Publisher: Henery Press (September 8, 2015)
ISBN-13: 978-1941962855
E-Book ASIN: B00ZD1VIXO
Synopsis:
The unspooling of Toni Lee Wells' Tiffany and Wild Turkey lifestyle begins with a trip to the Luckett County Jail drunk tank. An earlier wrist injury sidelined her pro tennis career, and now she's trading her tennis whites for wild nights roaming the streets of Rose Hill, Georgia.
Her wealthy family finally gets fed up with her shenanigans. They cut off her monthly allowance but also make her a sweetheart deal: Get a job, keep it for a year, and you'll receive an early inheritance. Act the fool or get fired, and you'll lose it for good.
Toni Lee signs up for a fast-track Teacher Corps program. She hopes for an easy teaching gig, but what she gets is an assignment to Harriet Hall, a high school that churns out more thugs than scholars.
What's a spoiled Southern belle to do when confronted with a bunch of street smart students who are determined to make her life as difficult as possible? Luckily, Carl, a handsome colleague, is willing to help her negotiate the rough teaching waters and keep her bed warm at night. But when Toni Lee gets involved with some dark dealings in the school system, she fears she might lose her new beau as well as her inheritance.
Review: I was excited to have a chance to read this book, due to the education theme. As a former teacher, I was expecting to find characters to whom I could relate. Unfortunately, that never happened for me. I was never able to get deeply involved in the story.
I truly didn't like Toni Lee....and the idea of her agreeing to be a special education teacher for a year just to a several million dollar inheritance grated on my nerves. Special education teachers are a unique breed, and need to have a passion for their career if they are going to be a GOOD teacher.
Having worked in an inner city elementary school, I also didn't find the situation in the school to be realistic. I suppose it could be in some cities, but again, it made the story unrealistic to me.
The author touched on several very complex social issues

(racism, PPD, family relationships, educational policy, poverty)

,

but the problem is that she treats them all very lightly, without doing justice to any of them.
I love this author's Bottom Dollar Girls series, but this book left me sorely disappointed.
Rating: Two stars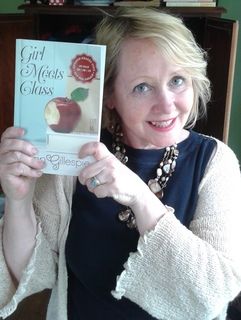 About the author
Karin Gillespie is national bestselling author of five novels and a humor columnist for
Augusta Magazine
. Her nonfiction writing had been in the
New York Times, The Writer Magazine
and
Romantic
Times. She maintains a website and blog at
Karingillespie.net
. Sign up for her newsletter on her website, follow her on
Twitter
or connect with her on
Facebook.