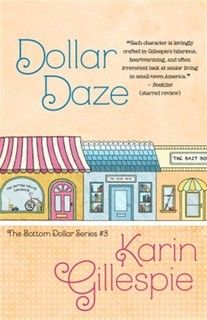 Synopsis:
Cupid is running rampant in Cayboo Creek, South Carolina, and all the Bottom Dollar Girls have been struck dizzy with his arrows…
When high school heartthrob Brewster Clark returns to town, both Birdie and Mavis are angling for his affections, threatening their long-term friendship.
Ever-so-proper Gracie Tobias meets Rusty the dreamy doctor of her dreams but soon discovers he's actually a blue-collar duct doctor. Will their wildly different social positions drive a wedge between them? Meanwhile Elizabeth is trying to put the sizzle back to her marriage. Not even octogenarian Attalee is immune to love's siren call. She gets engaged to beau Dooley and plans a wild bachelorette party and steamy honeymoon.
Traveling love's rocky road keeps the Bottom Dollar Girls asking, "Is it ever too late for moons and Junes?" Through much laughter and a few tears the girls discover that the answer is a resounding no.
Thoughts:
What a great story about friends, family, romance and love. This is the third offering in the Bottom Dollar series, and the Bottom Dollar Girls are in fine form.
Each of the "girls" has their own story, and they all tie together perfectly. Even though this is my first experience with the group, I fell in love with all of them. I'm going to go back and read the first two books now---and hope there will be more of them in the future.
I would recommend this one to anyone looking for a lighthearted romance that revolves around mature characters.
**I received a copy of this book from NetGalley in exchange for an honest review. All thoughts and opinions are entirely my own.**
My rating: Four stars