Series:

Witch's Brew Cozy Mystery

Paperback:

238 pages

Publisher:

CreateSpace Independent Publishing Platform (February 12, 2017)

Language:

English

ISBN-10:

1542914582

ISBN-13:

978-1542914581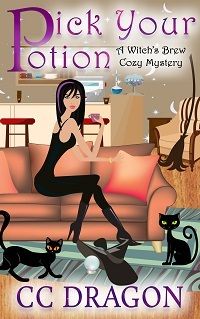 Synopsis:
Gypsies, vamps, and weres…these are just some of the people powerful witch Claudia Crestwood and her friends protect. In the city of Hartford, Connecticut—years before Salem, there were witch trials. Now the paranormal coexist with humans, more or less. With the help of her hippie aunt and cousins, her gypsy uncle, and other paranormal friends, Claudia stands on the line between humans and paras—helping to keep the peace.
When a human customer dies after an incident at the coffee shop, Claudia must dig into the case to protect the cafe and the coven. Threats have been made and what's worse, she's harboring a hunter wanted by the police in her basement. A hot and powerful wizard starts showing up in the shop when Claudia needs help and is at her worst. Intriguing and annoying… She isn't sure she can trust him and his reclusive family but it's time for her to dig deeper into the magical world.
156 pages |
Prices goes up to $2.99 on Feb 28th
Review: As soon as I read the synopsis of this book, I was hooked. A paranormal cozy centered around a coffee shop--what a great idea. And I must say the story lived up to my expectations.
Claudia is an easy to like character, with a lot of responsibility on her shoulders. Not only does she have to keep the coffee shop running, but she is also the witch responsible for keeping the peace between humans and paranormals, which is never an easy task. Add in trying to solve a murder of one of her human customers, and having her grieving husband accuse the coffee shop of being involved....and it all adds up to a fast-paced ride.
You'll find elements of fantasy, paranormal, mystery, suspense, humor, and romance in this story, and will have a tough time putting it down once you start reading. I can hardly wait to get to know the characters better, and to find out about Claudia's secret.
**I received an early review copy of this book with no expectation of a positive review. All thoughts and opinions are entirely my own.**
Rating: Four stars



About the author
A loyal Chicago girl who loves deep dish pizza, the Cubs, and the Lake, C.C. Dragon is fascinated by mysteries, sleuthing, as well as the supernatural. The southern connection comes in because her sister moved down there and the material was too fun and entertaining not to set a series there.