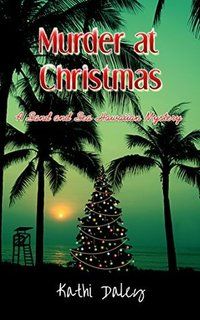 Series:

Sand and Sea Hawaiian Mystery

Paperback:

218 pages

Publisher:

CreateSpace Independent Publishing Platform (December 2, 2016)

Language:

English

ISBN-10:

1540302210

ISBN-13:

978-1540302212
Synopsis:
It is the week before Christmas and the Dolphin Bay Resort where Lani works is packed with holiday visitors. There is a strange flu working its way through the staff at the resort so those who are left have been asked to work double shifts. Lani works as a lifeguard by day and a Santa's Helper at night. Things go from bad to worse when Lani finds Santa dead in the alley behind the loading dock during the big Step into Christmas event the resort is sponsoring. As it turns out Santa is really one of the seniors who participates in the same Monday afternoon bingo game as Lani and her neighbor Elva, so Elva convinces Lani to investigate along with Luke and the senior sleuthing gang we saw in book 2 in the series.
Review: A fabulous Christmas-themed edition of Ms. Daley's Hawaiian mystery series. Nothing seems to be going right for Lani....she's working long hours thanks to illness among the resort employees, then she finds a dead body and gets involve in the murder investigation, along with Elva, Luke, and the senior ladies. Meanwhile, she's trying to get in the Christmas spirit, spend some quality time with Luke, and plan a massive Christmas Eve party. During the murder investigation, Lani discovers a variety of other issues, such as robberies, missing security videotape, secrets, shadows on the videotape, and pranks.
The characters are growing and developing more in each book in this series, which keeps them interesting. The relationship between Lani and Luke is also evolving so that readers are rooting for them to work things out at some point in the future. The author makes the setting an important part of the story as well with her detailed descriptions of the beauty of the island.
The mystery part of the story will keep readers engaged from beginning to end. There is a long list of suspects, with enough plot twists to make you totally surprised by the big reveal.
Rating: Five stars
About the author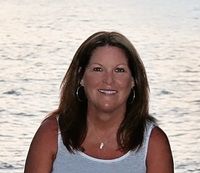 Kathi lives with her husband, kids, grandkids, and dogs in beautiful Lake Tahoe. When she isn't writing, Kathi likes to read (preferably at the beach or by the fire), cook (preferably something with chocolate or cheese,) and garden (planting and planning not weeding). She also enjoys spending time on the water when she's not hiking, biking, or snowshoeing, the miles of desolate trails surrounding her home.
Kathi uses the mountain setting in which she lives, along with the animals (wild and domestic) that share her home, as inspiration for her cozy mysteries.