Crime and Catnip (A Nick and Nora Mystery)
Cozy Mystery
3rd in Series
Berkley (December 6, 2016)
Mass Market Paperback: 304 pages
ISBN-13: 978-0425270226
E-Book ASIN: B01CZCW4ZY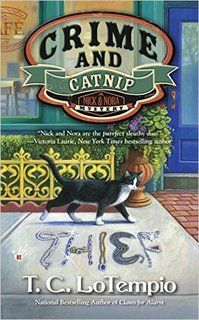 Synopsis: Nick and Nora aren't just pussyfooting around this time as they deal with a missing person's case and murder.
While catering a gala for the Cruz Museum, Nora Charles agrees to look into the disappearance of director Violet Crenshaw's niece, a case previously undertaken by her frisky feline friend Nick's former owner, a private eye whose whereabouts are also currently unknown.
As Nora and her curious cat Nick pull at the string of clues, they begin to unravel a twisted tale of coded messages, theft, false identities, murder, and international espionage. Nora dares to hope that the labyrinth of leads will not only help them locate the missing young woman, but also solve the disappearance of the detective. That's if Nora can stay alive long enough to find him...
INCLUDES DELICIOUS SANDWICH RECIPES
Review: I'm a big fan of this series and have been since the beginning.
All three of the books in this series so far are fun, easy reads.
Nick, a chubby black and white cat who adopted Nora in the first book, is once again a major part of the story, and of solving the crime. I love that he is such a major character in this series, unlike the animals in most other cozy series.
Nick's former owner is still missing, and the case Nick and Nora are trying to solve this time around is a missing person that Nick Atkins had been trying to find. That turns out not to be the only mystery the amazing duo has to solve, however. This suspenseful cozy involves secret codes and espionage as well as a missing person.

As usual, Nora puts herself in danger while trying to solve the case...and Nick actually uses his claws to help her out. I can't wait to see what other adventures these two have in the future---and if they ever find out what happened to the human Nick.
I received this book to review through Great Escapes Book Tours, all the opinions above are 100% my own.
Rating: Four stars
About the author
While Toni Lotempio does not commit – or solve – murders in real life, she has no trouble doing it on paper. Her lifelong love of mysteries began early on when she was introduced to her first Nancy Drew mystery at age 10 – The Secret in the Old Attic. She (and ROCCO, albeit he's uncredited) pen the Nick and Nora mystery series from Berkley Prime Crime – and in Spring 2017, the new CAT RESCUE mysteries from Crooked Lane! She, Rocco and company make their home in Clifton, New Jersey, just twenty minutes from the Big Apple – New York. Catch up with them at
www.tclotempio.com
and
www.catsbooksmorecats.blogspot.com
a Rafflecopter giveaway