Synopsis:
It's Halloween in Ashton Falls and that means Haunted Hamlet and the annual haunted house. Zoe is determined not to have her plans for this annual event ruined this year especially since it is also the weekend of the big game and a lot of old friends are in town. Things look as if they are on track for a spooktacular good time, until Zoe receives a message from an anonymous source predicting a death. At first Zoe and the gang think the note is a prank until one of the friends Zoe went to high school with actually turns up dead. Once Zoe realizes the note might not be a prank, she sets out on a race against time before someone else dies.
Review: Another great adventure in Ashton Falls. As the gang gets ready for Halloween, and the Haunted Hamlet, Zoe worries about Ellie and keeping her secret. Then there's a murder in town, and Zoe is once again thrust into the middle of the investigation.
I love the detail Kathi goes into about the preparations for the festival and the decorating that individual characters are doing at their homes and/or businesses. The level of excitement that builds around the big game is something that I can definitely relate to personally.
Once again, Kathi keeps us guessing with the murder mystery until the very end, and then wraps it all up in a very believable manner. There are several surprises throughout the book, and I can't wait for the next installment to see how things are going to go.
Rating: Four stars
About the author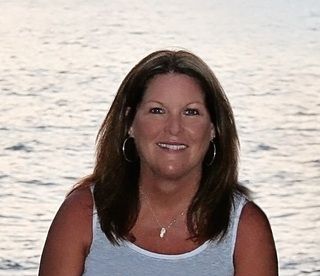 Kathi lives with her husband, kids, grandkids, and dogs in beautiful Lake Tahoe. When she isn't writing, Kathi likes to read (preferably at the beach or by the fire), cook (preferably something with chocolate or cheese,) and garden (planting and planning not weeding). She also enjoys spending time on the water when she's not hiking, biking, or snowshoeing, the miles of desolate trails surrounding her home.
Kathi uses the mountain setting in which she lives, along with the animals (wild and domestic) that share her home, as inspiration for her cozy mysteries.
Join me on Facebook at Kathi Daley Books (
www.facebook.com/kathidaleybooks
) for updates on my books, photos of life in Lake Tahoe, recipes, contests, and giveaways. For weekly updates and contests sign up for The Daley Weekly Newsletter (
http://eepurl.com/NRPDf
).