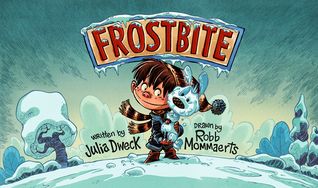 Synopsis: Bestselling children's author, Julia Dweck, shares the magic of the holiday season in a delightful story of one boy's wish for a dog of his very own. After a wintry mix of snow and love, two icy mounds of snow come to life with a bark, a wiggle and a wag. The wonder of childhood is born in this frisky snowpup named Frostbite. Children will be enchanted by the artistry of Robb Mommaerts, whose illustrations perfectly capture the magic of this imaginative picture book. Told in rhyme by a little boy whose dream comes true, this tale will warm the heart of young readers and any parent who remembers wishing for a dog of their very own.
Thoughts:
Another winner for this author. The rhyming text is simple and fun. It is a great book for reading to younger children, or for beginning readers to try out their new skills. And its subject matter makes it a great read for this time of year.
The illustrations are perfect for the text. I especially love the very first page, where you can tell that the boy is TOTALLY dog obsessed by the illustration. And every page after that reflects the words in amazing detail.
I believe this will become a new winter classic!
**I was given a copy of this book in exchange for an honest review.**
My rating: Five stars