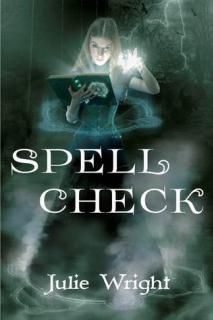 Synopsis:
A skeleton is rattling its way out of the closet marked "FAMILY SECRET! KEEP OUT!"
Allyson Peterson believes that being hanged by the Salem High Witches is the absolute worst thing that can happen. But when her powers, wrested from the trolls of ancient Sweden, manifest themselves, she realizes that a prank hanging by vindictive cheerleaders is the least of her worries.
Ally accidentally sends her parents to the jungle to fight anacondas, turns her brother into a mute, and curses the entire cheerleading team with an illness that has no cure, proving that her spells need a little checking. Her Swedish grandmother shows up to help her through the worst part of all—surviving the Troll Trials and saving the guy of her dreams from a vengeance that has festered through-out generations.
The power is in her, if she can just get the magic right.
Thoughts:
This was such a fun read! The author is new to me, but I will be exploring some of her other work after this.
Spell Check is not just your typical teen witch story. Allyson is totally unaware that she has any sort of powers until she turns 16 and finds whatever she wishes instantly happens, usually with hilariously wrong results. Her Scandinavian grandmother turns up to help her prepare for her trials to determine if she is worthy of wielding the power. Amid all this, Allyson is falling in love with Jake, dealing with a group of popular girls who bully her, and trying to cope with family issues.
I love how each chapter begins with a "note to self," which gives a little glimpse into what happens in the chapter, and which is usually humorous.
Although it is a story about teens, I would recommend it to teens and adults alike.
My rating: Four stars