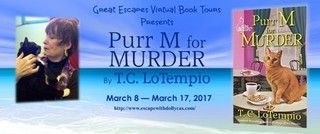 Purr M for Murder: A Cat Rescue Mystery
Cozy Mystery
1st in Series
Crooked Lane Books (March 14, 2017)
Hardcover: 304 pages
ISBN-13: 978-1683310921
Kindle ASIN: B01N6P3WYP
Synopsis:
Sydney McCall left behind an ex-fiancé and a New York advertising job to return home to Deer Park, North Carolina and help her sister, Kat, run the local animal shelter, Friendly Paws. Determined to save the shelter from financial trouble, Sydney and Kat organize a cat café fundraising event at a local coffee shop. Things are looking up until their landlord, Trowbridge Littleton, threatens to shut down the event. When Sydney drops by his art gallery to make peace, she finds Kat--along with Littleton's dead body.
Local homicide detective Will Worthington--who just happens to be Sydney's old high school crush--is highly suspicious of the sisters' involvement. Desperate to clear their names from the suspect list, Sydney pounces on the investigation. With the help of one of the shelter cats, a savvy orange tabby named Toby, Sydney begins poking her nose into other local businesses whose owners may have benefited from Littleton's death--until the killer notices she's pawing a little too closely at the truth.
Review: I'm a HUGE fan of this author's Nick and Nora series, so I was thrilled to learn she was releasing a new series. As hard as it may be to believe, I think I'm going to love this one even more. The cat shelter, and the fact that it is no-kill, are predominant parts of the story, which makes it near and dear to my heart as a cat lover.
Like Nick in the other series, there is a cat who plays a part in helping Sydney solve the murder...Toby the orange tabby, who is definitely working his way into my heart as well.
We also get the hint of romance between Syd and the new detective in town, Will Worthington, who was a friend of hers in school.
The cast of supporting characters is well-developed as well, and I look forward to getting to know more about them as well as Syd, Kat and Will.
The plot is well-written, and although I had several suspicions about the murderer throughout the book, I wasn't totally sure until the actual reveal. Already can't wait to read the next book in the series.
**I received a copy of this book through NetGalley with no expectation of a positive review. All thoughts and opinions are entirely my own.**
Rating: Four stars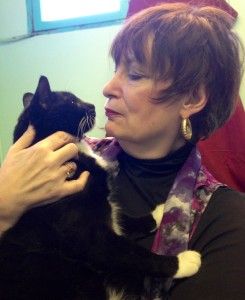 While Toni Lotempio does not commit – or solve – murders in real life, she has no trouble doing it on paper. Her lifelong love of mysteries began early on when she was introduced to her first Nancy Drew mystery at age 10 – The Secret in the Old Attic. She (and ROCCO, albeit he's uncredited) pen the Nick and Nora mystery series from Berkley Prime Crime – the first volume,
MEOW IF ITS MURDER,
debuted Dec. 2, 2014. Followed by #2,
CLAWS FOR ALARM
. #3,
CRIME AND CATNIP
, was released in December. She, Rocco and Maxx make their home in Clifton, New Jersey, just twenty minutes from the Big Apple – New York. Catch up with them at
www.tclotempio.net
and
www.catsbooksmorecats.blogspot.com
a Rafflecopter giveaway