Masking for Trouble (A Costume Shop Mystery)
Cozy Mystery
2nd in Series
Berkley (October 4, 2016)
ISBN-13: 978-0425278291
E-Book ASIN: B01AHKXIHY
Synopsis: Halloween brings more tricks than treats for costume shop owner Margo Tamblyn in the second in a new cozy series from the national bestselling author of the Material Witness Mysteries.
Halloween conjures up big business for Margo Tamblyn's costume shop, Disguise DeLimit, but this year, the holiday comes knocking with serious trouble. Venture capitalist Paul Haverford plans to rezone historic downtown into a glitzy commercial area which would push out local business. Margo is set on saving her family's store, especially after a nasty run-in with the chain-store tycoon, but after Haverford's body is discovered during a spooky party at the derelict Alexandria Hotel, Margo finds herself dressed as the police's prime suspect.
Anxious to clear her name, Margo begins hunting down anyone who might have wanted Haverford dead. Between all of his malicious maneuverings, the murdered mogul had buckets of people anxious to see him gone. Now, Margo will have to use every trick in the book to find a cloaked killer—before someone else winds up wearing a death shroud.
Review: The second offering in this series revolves around Halloween, so it's a perfect read for this time of year. We find Margo trying to run the shop alone while her father is off on a buying trip for costumes, and almost immediately she runs into trouble with a nasty venture capitalist, Paul Haverford. When he later turns up dead at a Halloween party, her actions make her a prime suspect.
I love all the costume descriptions in this series (Margo dresses in costume on a daily basis, plus we get to read about some of the more creative costumes available from the shop), and the vivid descriptions of the parties in this book. I also enjoy seeing the relationships grow from book to book---the friendship between Margo and Kirby is really blossoming (and I loved Kirby's ideas for costumes for the swim team!).
The plot was well-developed, as well as believable. I was stunned by the reveal of the murderer, but realized that it made perfect sense.
**I accepted a copy of this book from NetGalley and was under no obligation to write a favorable review. All thoughts and opinions are entirely my own.**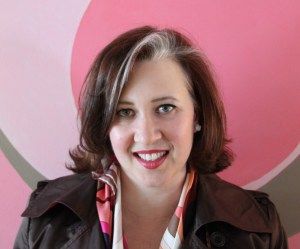 I'm a former fashion buyer turned mystery writer, trading fashion accessories for accessories to murder. I was bit by the mystery bug as a kid reading Trixie Belden, Connie Blair, and The Three Investigators. Now I'm writing three series: the Style & Error Mysteries, the Mad for Mod Mysteries, and the Material Witness Mysteries.
The Costume Shop mysteries debuted with A DISGUISE TO DIE FOR
, which introduces Margo Tamblyn, costume shop owner, who helps solve a murder after one of her clients is found dead at his own costume party (dressed as Sherlock!). MASKING FOR TROUBLE
, the second in the series, will be out in October 2016, just in time for Halloween.
a Rafflecopter giveaway